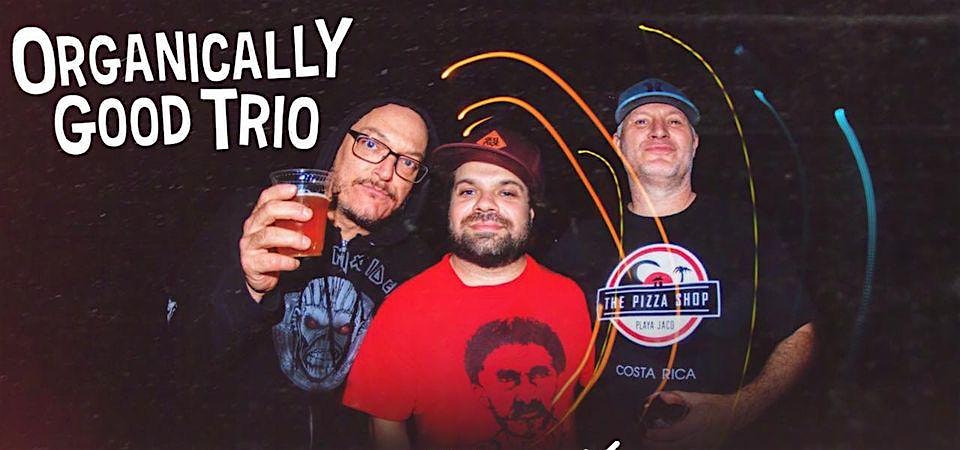 Organically Good Trio is a Hammond organ driven roots instrumental group out of Boston. Founded by Slightly Stoopid keyboard player Paul Wolstencroft, the band has a sound reminiscent of the great organ trio albums of the late 60's Mixed with a reggae organ trio style. Hailing from Boston, the band has created a new sound among organ trio music. A mixture of reggae, soul, and boogaloo the band is forging a new path forward both in live shows, and in the recording studio.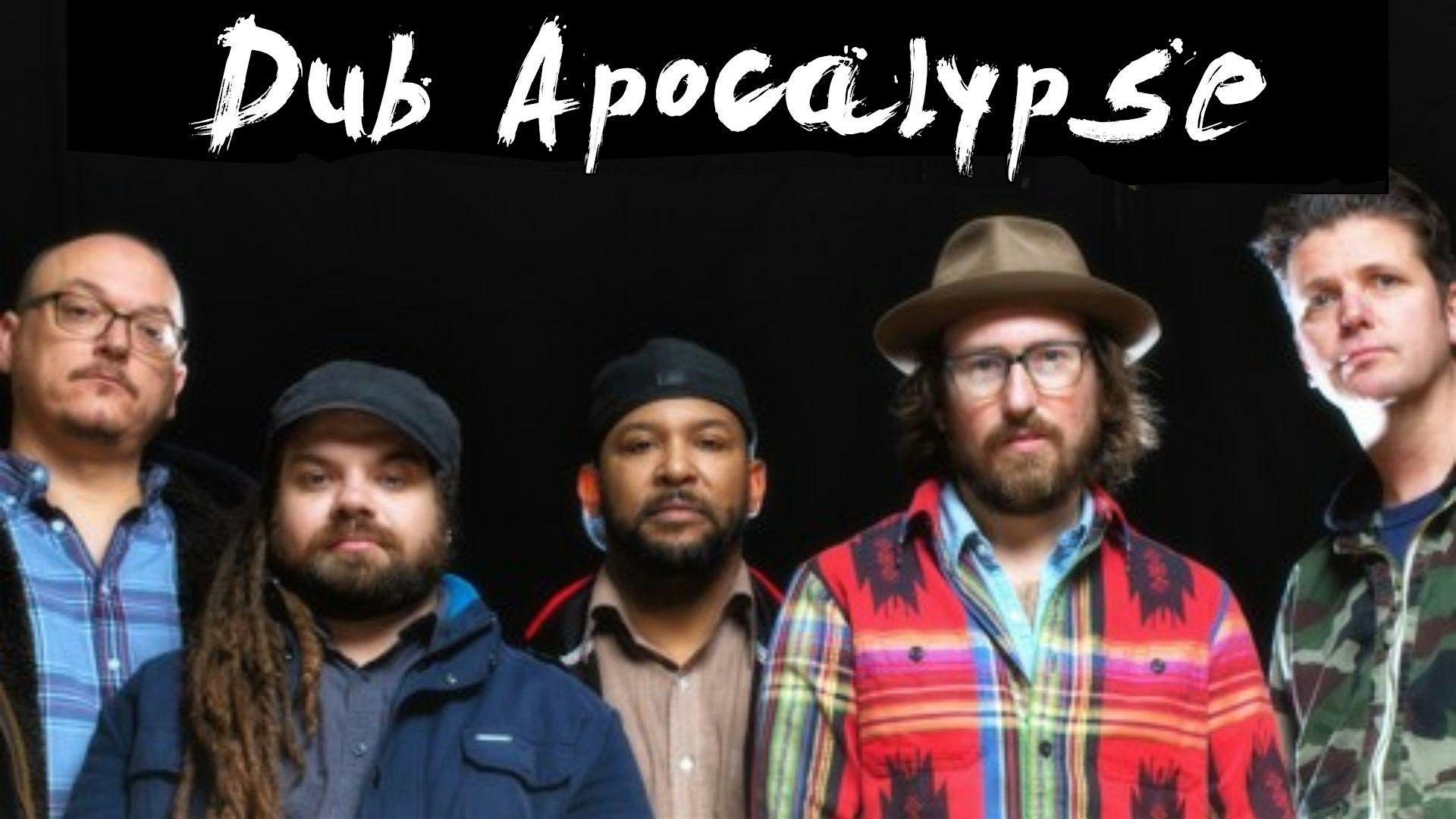 Dub Apocalypse is an instrumental dub reggae band from Boston, MA. Band members are Tommy Benedetti-drums,Van Martin-guitar, Johnny Trama-guitar,Aaron Bellamy-bass,and Timo Shanko-sax/bass. The band came together in 2007, led by drummer Tommy Benedetti and guitarist Johnny Trama.Tommy Benedetti is one of the founding members of American Reggae Pioneers,John Brown's Body. He brings a wealth of experience from the reggae/dub scene to the table,having recorded albums for the legendary Shanachie Label,John Zorn's Tzadik Label (mixed by Bill Laswell),and is currently with John Brown's Body on Easy Star Records. This history is combined with almost 2 decades of International touring, as well as backing some of the giants of Jamaican music,including The Meditations and Justin Hinds.
The band has appeared at many clubs and festivals throughout New England.They've won a Boston Music Award,were named "One of 10 Local Acts You Need To Hear Now" by The Improper Bostonian,and have one of the most popular and longest running weekly residencies in Boston.Dub Apocalypse released their first cd, "Road To Oblivion" in March 2015.The cd release will be followed by an International release on vinyl through Mnemonic Dojo Records out of the UK.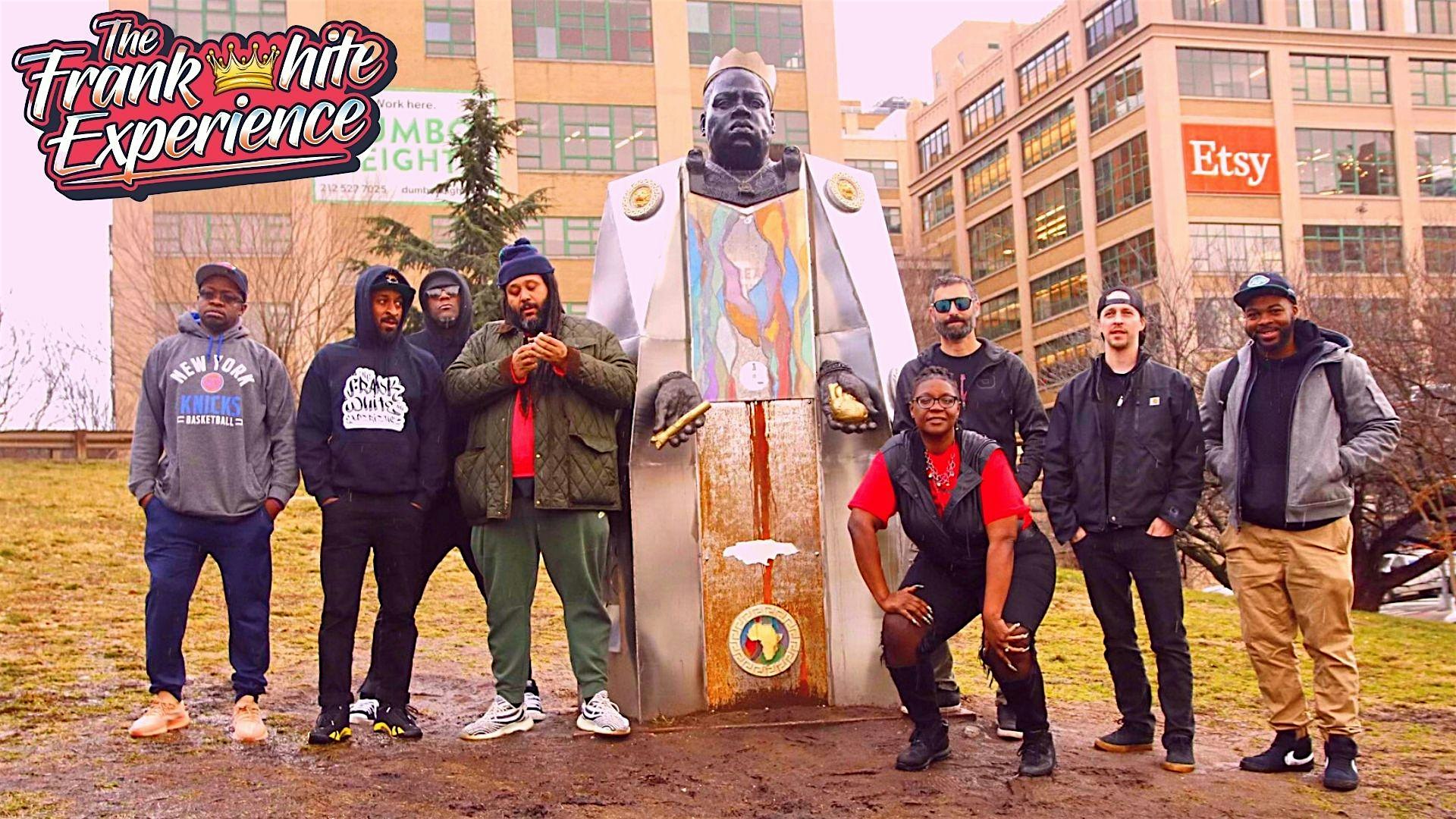 The Frank White Experience is the Official Notorious B.I.G. Tribute Band! FWE brings things to the next level with live instrumentation, bringing Life After Death to the music of The Notorious B.I.G. to your ears in a way never heard before! Best described as the Dark Star Orchestra of Hip Hop. FWE delivers a quality of sound & homage akin to acts like Pink Talking Phish, Lizards, Badfish and Start Making Sense. FWE not only covers the music of Biggie Smalls but takes listeners on a journey back through the beloved soundscape of 1990's Hip Hop and R&B, making them a guaranteed crowd pleaser sure to rock any audience.
The Frank White Experience has shared the stage with Rakim, Styles P, Lil Kim, Fat Joe, C.J. Wallace, Havoc, DJ Enuff, Sway Calloway, Lil Cease, Smif-N-Wessun, Prayah, Klept, Reef The Lost Cauze, Shenseea, Badfish & many more.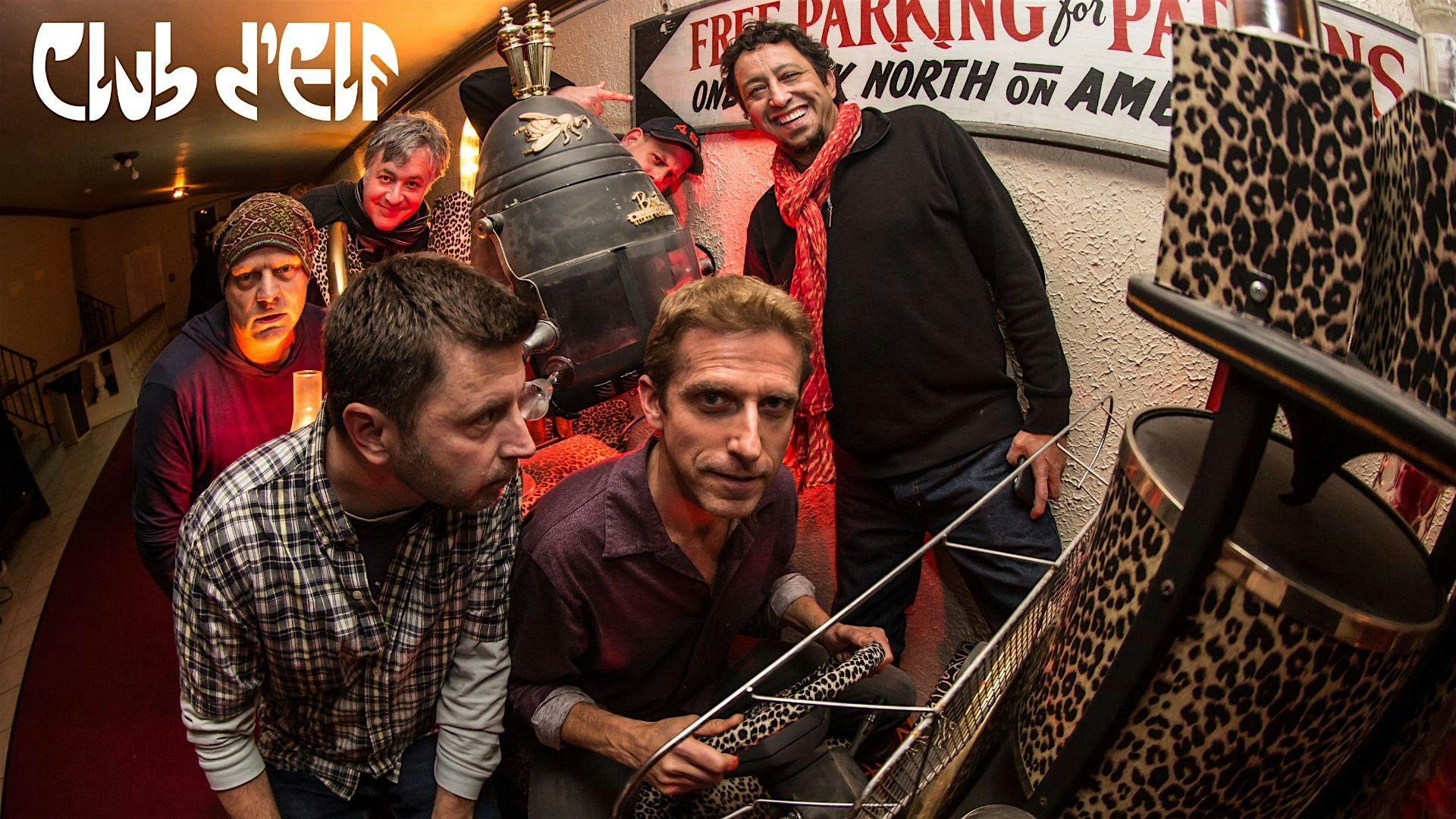 Club d'Elf has been helping audiences lose track of time for twenty five years with its mesmerizing synthesis of Moroccan traditional music and electronic, dubbed-out funk. Circling about bassist/composer Mike Rivard and drummer Dean Johnston, each Club d'Elf performance features a different line-up, drawn from a constellation of some of the most creative improvisers from the jazz, DJ, rock & world music scenes of Boston, NYC and beyond. The band's music draws from a startlingly wide spectrum of styles, including jazz, hip hop, electronica, avant garde, prog-rock and dub. Under the tutelage of member Brahim Fribgane (who hails from Casablanca) the band has absorbed Moroccan trance music, which is now an essential part of the mix. Diverse audiences are drawn to Fribgane's mesmerizing oud stylings, and Rivard's commanding playing of the Moroccan sintir. Trance forms the central core of the Club d'Elf aesthetic, weaving together the band's various influences.
In April 2022 the band released its latest album, 'You Never Know', which rose to #2 on the Relix chart. The record unfurls upon kaleidoscopic clouds of spiced smoke, shifting from chopped dub-jazz through trance epics that reimagine Boston as a city of bazaars. Club
d'Elf pay tribute to the music and musicians who have been primary influences, with half the album being covers of gnawa, Miles Davis, Joe Zawinul, Moroccan band Nass el-Ghiwane, and Frank Zappa. The other half consists of original music inspired by Rivard's personal journey into darkness following a near death experience in the remote jungle of the Peruvian Amazon.
ABOUT THE OLD STAGE ON THE ESSEX EXPERIENCE GREEN
The Green at The Essex Experience began its life as a small garden and gazebo in the center of a successful shopping plaza. Each year it would be decorated with Christmas lights for shoppers to appreciate. It was less of a green, and more of a landscaping piece. Flash forward to today, with over 12,000 square feet of grass, and a capacity of 1500 at times, it has firmly planted itself as The Green at the center of all of our campus gatherings. Concerts on Old Stage on The Green at The Essex Experience feature a wide range of artists from reggae to rock, jam band to hip hop and country.
There is no overhead cover on The Green or seating offered, though you may bring umbrellas and lawn chairs. You will not be permitted to re-enter if you leave the venue at any time.
All ages, Children 12 and under are free! Glass and outside alcohol are prohibited. Blankets, low chairs, and food are permitted. All events are rain or shine. All dates, acts, and ticket prices subject to change without notice.
SAFETY AND SECURITY POLICIES
All bags are subject to searches prior to entering the venue, no exceptions.
Our patron's safety and security is our top priority. To protect the safety of our patrons, staff and performers you'll be greeted upon entry by one of our security personnel who will conduct a thorough but speedy check of all bags and purses.
No backpacks or bags larger than a backpack will be allowed into any of our venues. Patrons will be asked to return backpacks and large bags to their vehicles before entering the venue. To expedite our screening process, please leave large or overstuffed purses and bags in your vehicle.
During our security screening process, all patrons will be asked to open / unfold large jackets, coats, etc.
Smaller clutch-style pocketbooks/purses and other bags will generally be allowed into the venue, however, all bags will need to be searched by security personnel. Contents will need to be fully viewable by security personnel. Clear plastic tote bags/small backpacks are encouraged!
Pocketbooks/purses and other bags which are not fully viewable (where they are stuffed full with items making it difficult to view everything inside the bag without emptying the bag) may be asked to be returned to the patrons vehicle at the discretion of the security personnel.
The only exceptions to this policy include infant and toddler product packaging for our children's daytime shows.
The following items are also not allowed inside the venue under any circumstances: firearms, including those carried by off-duty law enforcement; weapons of any kind; sharp items such as knives (including pocket or "Swiss Army"-style knives), multi-tools, screwdrivers and scissors; illegal substances; laser pens; fireworks, or any item that can be deemed potentially harmful, including pepper spray and Mace.
People attempting to bring in the items listed above will be asked to return them to their vehicle which will delay their entrance inside the venue.
These policies are designed to make all of our patrons feel safer at our venues. Any questions on these policies can be directed to [email protected] or by calling 802-878-4200.
SMOKING
There is no smoking of any substance inside The Green. Smoke is restricted to designated smoking areas located outside The Green. This includes cannabis, e-cigarettes and vaping.
ACCESSIBILITY
There are accessible restrooms, seating, and parking.
Please call the box office for accessible tickets or for more information regarding accessibility.
Please call the box office at 802-878-4200 for accessible tickets or for more information regarding accessibility.
PARKING
The Essex Experience, where Old Stage, The Green, and The Double E are located offers plenty of complimentary, on-site parking adjacent to the venue.
The parking lot entrance is located at 21 Essex Way. We offer handicapped parking in designated areas.
We do not allow any tailgating or barbecuing in our lots, however concessions are available inside the venue prior to the performance through the end of intermission.
Since we are located in a mixed-use residential area, please consider our "good neighbor policy" and do not sound horns when exiting the venue.
The Essex Experience, T-Rex Productions/Double E, and EuroWest Retail Property Holdings are not responsible for theft or damage to vehicles or contents.
VIDEOGRAPHY + PHOTOGRAPHY
We do not allow SLR or DSLR cameras with detachable lenses in the venue without a photo pass and prior written consent of artist management.
AGE RESTRICTIONS
Most shows are all ages. Any age restriction will be noted on the website listing.
If you wish to bring children, we encourage you to watch the videos posted on the events to determine age appropriateness of content.
Any child aged 13 and older is required to have a ticket for a performance.
BOX OFFICE
All major credit cards are accepted for phone and online purchases. Cash payments are only accepted in person, via the Box Office.
Any ticketing questions can be emailed to [email protected], or you can call 802-878-4200 between the hours of 12pm-5pm on standard business days.
If you have issues finding your tickets we have box office staff onsite to assist with any ticketing needs.
All sales are final. There are no refunds or exchanges, unless a show is canceled. Please direct any questions to [email protected]
CONCESSIONS
No outside drinks, beverage containers or coolers, can be brought into the venue. For your comfort and convenience we offer vendors selling food on site.
We will have local food trucks inside of the venue to provide a variety of food.
For patrons over 21, our concession stands also serve a variety of beer, wine and mixed drinks. You must be 21 years of age to purchase alcoholic beverages. A valid driver's license, liquor ID, passport or military ID is required.
RESTROOMS
Porta-Potties will be located on the adjacent side from the stage in the food court.
ATM
For your convenience, ATMs are located at 21 Essex Way, #300, in front of the Essex Cinemas and within Hannaford's Supermarket, at 21 Essex Way, Suite A.
ADDITIONAL
Proceeds from our venues are reinvested in the Essex community and non-profit organizations that support the arts, humanities and education in Vermont.
Dates & Times
April 21, 2023 5:00 pm
Location
21 Essex Way, Essex Junction, VT 05425